Storm-Related Outages
Year round, our employees train, practice and prepare for the impact of storms and other emergencies that might interrupt electric service to your home or business.
When storms strike, all departments within CUB unite to repair damage, safely restore electricity and keep communities informed. Our record for providing highly reliable electric service is known throughout the valley region.
While our crews are prepared, there also are things you can do to keep your home, business and loved ones safe.
Report Power Outages by Phone
(865) 457-9232
Please note, this line is automated during outage events to ensure your information reaches our crews as quickly as possible. If your outage has already been reported, you will hear an automated message informing you of this fact. Don't assume someone else has called to report the outage; some outages affect single customers!
Important Notice
It is imperative that we have on file your preferred phone number associated with your CUB account. By doing so, our automated system will immediately recognize you when calling and provide you with essential information about the status of your electric service. You may verify or change the phone number we have on file by calling (865) 457-9232 during normal business hours and speaking to one of our Customer Service Representatives. During an outage event, our automated system will provide you with an opportunity to access your CUB account even if you are calling from a number other than that on file.
Click Here to Better Understand How CUB Prioritizes Outage Restoration Efforts.
Storm Preparation Tips
If you depend on electrically-powered medical equipment, ask your physician about emergency battery back-up systems. If you are homebound and use life-support equipment not supported by backup power, you may qualify for our Life Support Program. Contact our customer service department at (865) 457-9232 for more information.
You may want to consider panel-mounted or point-of-use surge protection devices to help safeguard your home appliances and electronics in the event of a lightning strike.
Remember that cordless phones and automatic garage door openers only work with electricity. Keep a standard phone as a backup, and learn how to open your garage door manually.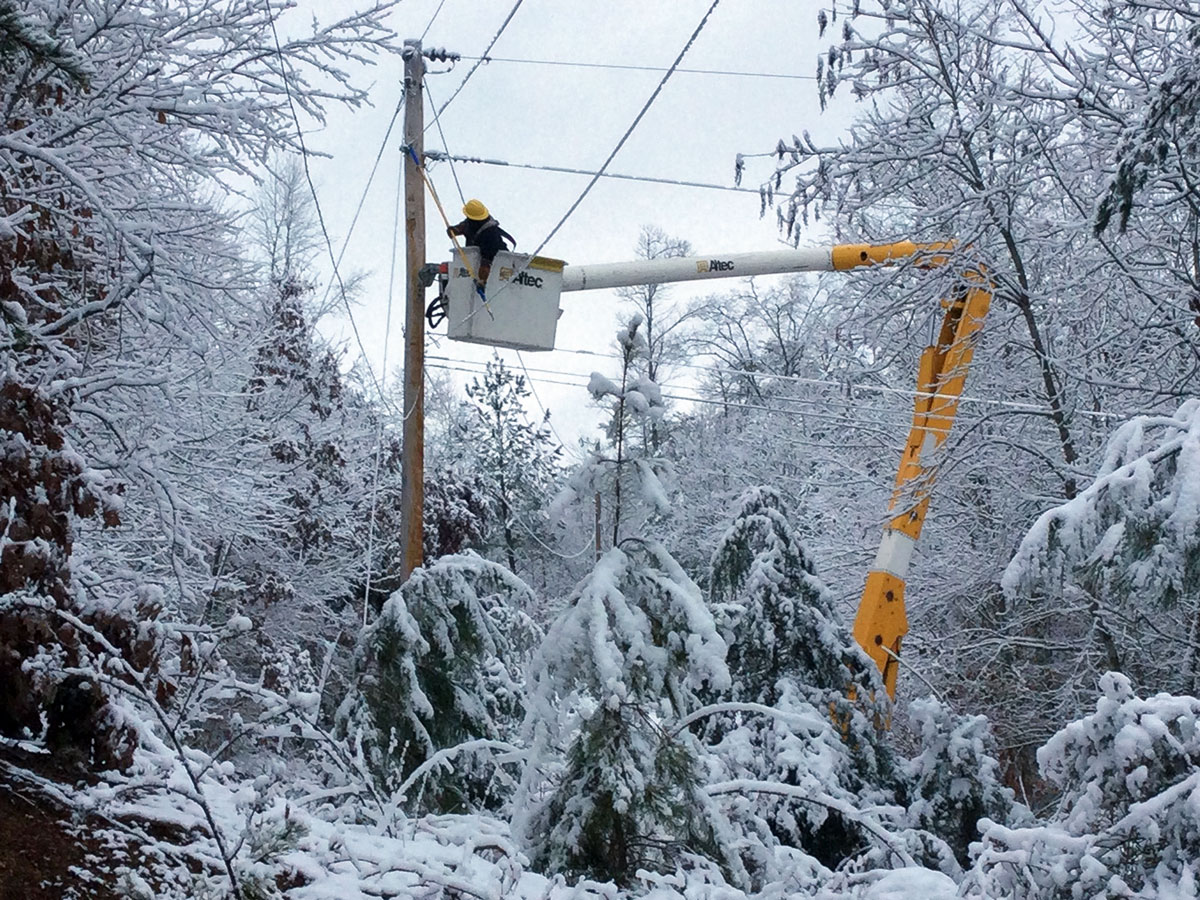 Make a Storm Kit
Develop shelter plans for severe storm and tornado conditions, and assemble a centrally-located storm kit that includes:
Important documents such as identification, copies of important family records, important phone numbers and medications.
Battery-powered lantern, flashlight and extra batteries.
Car charger for your cell phone (Cordless phones only work with electricity).
Solar/hand crank radio with national weather access.
Several days' non-perishable food and water—one gallon per person per day (Be sure to include special items for infants, pets, the elderly, and family members with special needs. Don't forget to add a hand-operated can opener).
First aid kit
Hand tools such as a screwdriver, scissors, duct tape, plastic, paper, waterproof matches and household bleach.
General Public Safety Information
Always assume that utility lines and other electrical equipment are "live" – or energized – and keep away from them. NEVER TOUCH OR ATTEMPT TO MOVE A DOWNED POWER LINE!!!
If a power line falls on or near your vehicle while you are in it, stay in your vehicle and tell others not to touch the wires on the vehicle. Persons outside the vehicle should stay away, because anyone on the ground who touches your vehicle could also be in danger. If you must leave the car due to other hazards (e.g., fire), do not touch the vehicle and the ground at the same time. Jump clear of fallen lines and land with your feet together. Hop away (do not walk or run) with your legs together. Both feet must touch the ground at the same time, or you could be in danger.
Immediately report any fallen, low-hanging, or smoking wires to CUB at (865) 457-9232.
Fences, trees, and other objects can become electrified when a live wire falls on them. Remember, stay a safe distance away and do not touch them!
If someone is contacting a fallen power line, stay away and do not approach the person.
Call 911 for emergency help
Do not try to rescue the victim
Efforts to pull a shock victim away could also make you a victim
Stay clear until you have been ensured by a professional that the power is shut off
Underground Utility Information
In Tennessee, it is state law that you must call before digging to make sure you know the location of any underground utility lines.
Utilities are allowed 72 hours to perform the locate service, so plan ahead.
Call 811 to request underground utilities be located. There is no charge for this service.